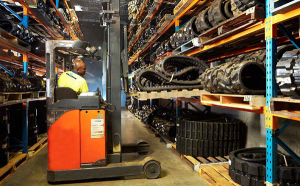 An ongoing problem faced by tracked machine operators has been what to do with their used rubber tracks and pads once they're no longer in working condition and need replacing with new tracks and pads.
Most end up stockpiled, taking up much-needed warehouse space, some are dumped illegally, and others are disposed of correctly by a recycling company for a hefty fee.
With this in mind, and a focus on being more of an environmentally conscious and responsible company, DEKK Rubber Tracks
Pads trialed a new initiative to provide not only a solution to the user track and pad disposal problem, but also save the customer money.
Tyler Mulford, NSW Sales Manager said, "Our ultimate goal is to help play our part in minimizing the negative environmental impact of the disposal of used rubber tracks and pads."
Launching in 2019 at the Diesel Dirt & Turf Expo, DEKK will be unveiling their new Rubber Track & Pad Recycling Program. The program involves those customers who've purchased tracks and pads from DEKK, being able to return their equivalent used tracks and pads for recycling by an authorized recycling company.
"We expect the recycling program to save customers time and money in relation to the disposal of the tracks and pads themselves," said Tyler Mulford.
To be eligible for the Track & Pad Recycling Program all the customer needs to do is choose the correct new DEKK rubber track or pad to fit their excavator, skid steer or crawler carrier machine from DEKK and then return their equivalent used tracks
or pads for recycling (conditions apply). With a huge range of stock to suit leading OEM machine brands including Kubota, Takeuchi, ASV, Terex, CAT, Bobcat, Case, Morooka, Yanmar, and Komatsu and all available Australia wide and at competitive prices, the decision will be an easy one.
In addition, our range of rubber tracks has been designed with various tread styles such as offset, multi-bar, block, and non-marking for use on a range of surfaces and applications for improved performance and reliability.
Jason Dadd, DEKK Rubber Tracks & Pads National Sales Manager said, "The new recycling program trialed exceptionally well with some of our key customers, leading us to be in a position to launch it to all of our customers. And with our recent head office relocation to much larger premises, we'll be able to continue to stock the largest range of tracks and pads in Australia and all available for same-day dispatch."
Call DEKK Rubber Track & Pad 1300 335 528
E mail [email protected]
Earthmoving Equipment Magazine, (2019). DEKK Rubber Track & Pad Recycling Program. [online] Available at https://theurbandeveloper.com/articles/sydney-major-development-projects [Accessed 22/04/2021].